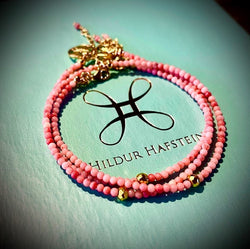 Pink Ribbon Charity Bracelet
Charity bracelet for the Pink Ribbon, The Icelandic Cancer Society.

Oktober mánuður hjá okkur er ávallt tileinkaður átakinu Bleika Slaufan og Krabbameinsfélagi Íslands. Í ár höfum við gert dásamlega fallegt armband sem að þessu sinni er úr bleikum kóral. Það kemur í tveimur útgáfum, með sterling silfri og gullhúðuðu sterling silfur. Kórall stendur fyrir visku, hamingju, hógværð, heppni og vernd.
Armbandið kostar 9900 krónur og rennur hluti söluverðs til Bleiku Slaufunnar.
The price is 9900 kr.